Imagine relaxing on a beautiful porch and enjoying a scenic view, maybe with a cold drink in your hand. 
Sounds lovely, right? 
But what about the details you didn't imagine–the sun beating down and making you sweaty, the hot decking material burning your feet, or the cloud of mosquitoes and flies buzzing around your head? 
Unfortunately, these inconveniences might make a real porch-sitting experience unpleasant.  
That is where a covered porch can come in handy! 
Covered porches can shield you from the harsh sun, cool you down, and even keep those bugs away, making your porch-sit so much nicer. 
Today, DG Builders would like to answer some of the most common questions about covered porches. It will give you a jumpstart toward building your own covered porch. 
Let's get started! 
8 FAQs About Covered Porches
If you are thinking of adding a covered porch to your home, you probably have many questions to answer before you start. 
We made a list of the top 8 FAQs about covered porches to help answer some of those questions. This list covers everything from what kind of foundation your porch needs to styles of porches to what permissions you'll need to obtain before building your porch. 
Let's kick it off with number one! 
1 - Does a covered porch need a foundation?
You may only see some of it, but a solid porch foundation is essential. Do not skimp on your foundation! An inadequate foundation can compromise the entire porch. 
How hefty a foundation you need depends on different factors such as: 
Local building codes (your foundation must be up to code) 

Porch type 

Soil type in your area 

The topography of your yard 
A porch is a heavy structure that needs a good foundation to stay strong and not sag or collapse. Building on a solid foundation will ensure that your porch is functional and sturdy for years to come. 
2 - Do you need a permit before adding a covered porch?
Yes, you do need to obtain a permit before building a covered porch. There are two main places you need to look into getting permission from before building: 
Your state, county, or city

Any homeowners associations in your area 
3 - Do you need permission before enclosing your existing porch?
If you just want to add a cover to your existing porch, you must follow local/state regulations and HOAs. You may or may not need to obtain a permit, depending on the size and structure of your porch.
If you need clarification on the guidelines for building or enclosing a porch in your area, a good first step would be to contact your local authorities. Or, if you don't want to worry about it, hire a licensed contractor who can do it for you.
A good contractor can easily obtain all permissions you need to complete your project without you needing to stress about it.
4 - Does a covered porch add value to your home?
Yes, a covered porch absolutely adds value to your home! A porch makes your home more attractive to potential buyers, increasing its monetary value. 
Here are several ways covered porches increase your home's value: 
Increased living space

Increased functionality 

Improved curb appeal 

Provide a beautiful hosting spot 
Exact numbers vary depending on location and other factors, but adding a covered porch to your home may increase its value by roughly 4-6%. 
5 - How much does it cost to add a porch?
HomeAdvisor says the average cost to build a 200-square-foot covered porch ranges from $4,600 to $22,000. 
In reality, there are a lot of factors that affect how much your porch costs to build. Some of these factors include: 
Complexity

- The more complex your design, the more it costs to build. 

Existing structure

- If you already have a porch and just need to build a cover, your price comes down.

Additional features

- The price can skyrocket if you want to add electrical wiring, gas, fans,

outdoor kitchen features

, or other finishing touches. 

Location

- Building materials, labor, and shipping are more readily available in some areas. 

Desired materials

- Some building materials are more expensive or less readily available than others. 
To get a more exact estimate, you have to come up with a plan and get a quote from a contractor or do the math for DIYing your project. 
6 - What is a good size for a porch?
The "best" size of the porch depends on your situation. You might want a large porch for outdoor dining or just enough room to relax with your significant other in rocking chairs with iced tea. 
However, most experts recommend that your porch be at least 6 feet deep if you want to add furniture. 6 feet gives you enough room to navigate around furniture comfortably. 
If you want to add a table and chairs for outdoor dining, go for at least 10 or 14 feet of depth. 
How wide you should make your porch depends on the style and structure of your home. Your porch could serve as a small entry into your house, or you could do a full wraparound porch extending to all sides of your home. It's up to you!
7 - Are there different styles of porches?
There are plenty of different styles of porches. Here are a few of the most common porch styles: 
Which style of porch you should build depends on your home style and the purpose of your porch.
8 - How do you get started building a covered porch?
Constructing a covered porch may look like a monumental task, and getting started is often the hardest part of any project. 
If you want to take the first step toward adding a covered porch to your home, start brainstorming! Look up some covered porch ideas, get inspired, and form a picture of what kind of porch you would like.
After that, it's time to get permits from local authorities, order materials, get tools on hand, and ensure you have enough manpower for the project. 
That's a lot of work! And to be honest, it's even more work than what most people know. 
It's possible to save some money and build your own covered porch if you have adequate construction skills, but for the best experience, we recommend hiring a contractor. A covered porch is not a simple project and takes experience to complete well. 
Plus, a fully licensed contractor can help you get all the permits you need with minimal stress and give you good advice about your project details and design. They keep everything easy and simple for you.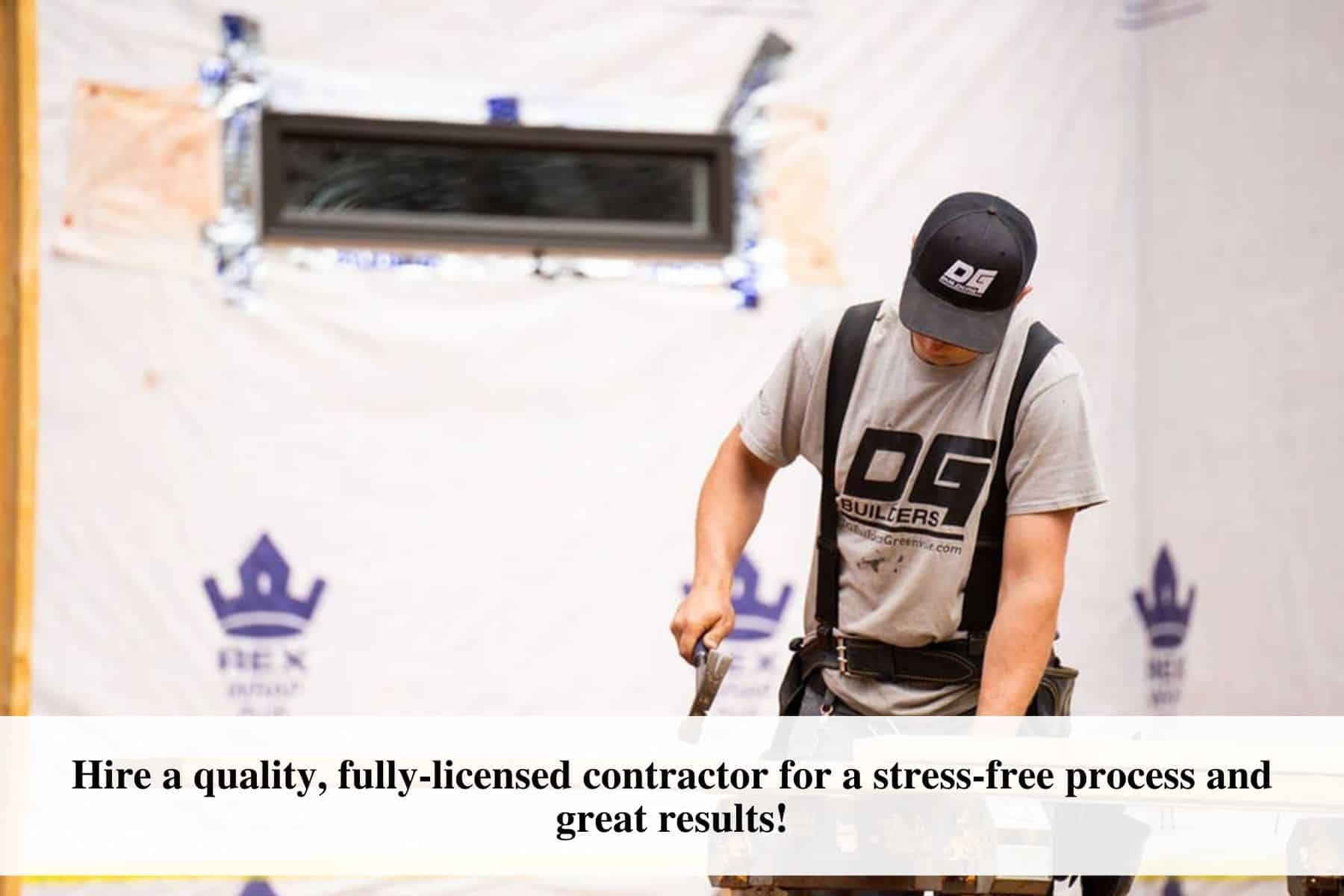 If you live in South Carolina, a porch of some type is essential! (If you aren't convinced yet, read our blog on 5 reasons you should build a covered porch.)  
If you want to add a covered porch to your South Carolina home, contact us today here at DG Builders. We would be happy to help you out with your project. 
We offer other services for those living in South Carolina as well, including: 
Contact us today to start the conversation about your next project! 
We look forward to hearing from you.