Planning and Designing The Ultimate Outdoor Kitchen
It's a perfect day in late spring, and as you gaze out the window at your children playing in the backyard, you find yourself longing to join them in the great outdoors. 
You almost feel the breeze on your face and the cool grass beneath your feet.
But someone needs to make dinner, and you're the adult. Maybe you can go outside later, but for now, you're stuck in the sweltering kitchen.
Here at DG Builders, we understand your frustration. But it doesn't have to be this way! Increasingly, people like you are adding outdoor kitchens to their homes. 
In the warm months of the year, this transforms your dreaded chore into something fun and relaxing as you breathe in the fresh air and cook alongside friends and loved ones.
Are you ready to learn more about outdoor kitchens, and what type of kitchen would work for you?
Let's get started!
The Pros and Cons of Outdoor Kitchens
The idea of a gleaming outdoor kitchen may seem like a dream come true, but is it too good to be true? Would you use it? Is it worth the expense?
It's understandable if you're hesitant about outdoor kitchens.
Like all things in life, outdoor kitchens have pros and cons. Let's take a moment to examine the primary ones. 
Benefits of Outdoor Kitchens:
1 - Outdoor kitchens increase your living space without increasing your energy costs
Outdoor kitchens and other outdoor living spaces are popular because they offer more space to hang out and entertain guests without paying for expensive home additions.
When you make your house bigger, you not only have to pay the initial construction cost, but you also pay increased energy costs to heat and cool that extra space.
An outdoor kitchen not only gives you lots of space to prepare food, but the breeze dissipates the excess heat caused by your appliances without any extra strain on your air conditioning unit. And if you put a roof over your outdoor kitchen you can use it even if it's raining. 
2 - Outdoor kitchens allow you to be part of the action
No one wants to be stuck in the kitchen, missing out on all the fun. And on nice days, all the fun is outside.
This is true in everyday life when your spouse and children are likely to hang out outside rather than in. 
But it's especially true when you invite friends over or host an event. The outdoors makes an ideal hosting space, but it's frustrating to be stuck in the house, cooking, while everyone else is socializing without you. 
Outdoor kitchens allow you to be part of the fun. Cooking becomes a group effort instead of a separate event isolating you from your guests. 
3 - Outdoor kitchens can be good for your health
According to the American Psychological Association, being outside in nature is linked to numerous health benefits, including "lower stress, better mood, reduced risk of psychiatric disorders and even upticks in empathy and cooperation."
Furthermore, eating home-cooked meals is associated with a healthier diet overall. Outdoor cooking typically involves grilling, which is healthier than other ways of preparing food, such as frying it. 
If you utilize your outdoor kitchen, the mundane task of cooking becomes much more enjoyable. This leads to a healthier lifestyle as you spend more time outside and cook more healthy, home-cooked meals. 
4 - Outdoor kitchens allow you to try new types of cooking
The centerpiece of most outdoor kitchens is the outdoor grilling station.
For safety reasons, you could never grill over and open flame in your indoor kitchen. But once you have an outdoor grilling station, you can learn new food preparation techniques and try hundreds of new recipes, such as:
You may also experiment with a wood-fired oven. Like grills, wood-fired ovens are only safe to use outdoors and allow you to prepare food you wouldn't otherwise be able to make. Wood-fired ovens are particularly popular for baking artisan bread and pizza.  
Are you curious about other must-have features for an outdoor kitchen? Check out our related article: The Ultimate Outdoor Kitchen Guide.
Cons of Outdoor Kitchens
1 - Outdoor kitchens require space
Some people do not have the space for an outdoor kitchen.
After all, there are many things you could do with a backyard. You could add a pool or a firepit. You could grow flower gardens, vegetable gardens, or install an attractive water feature. Or you could simply grow a nice lawn, so you have space to relax and play yard games. 
If space is limited, building an outdoor kitchen probably isn't your highest priority.
On the other hand, if indoor space is limited, creating outdoor living spaces is the perfect way to expand your living space without paying extra air conditioning costs. 
You may also consider adding a few outdoor kitchen features to an already-existing deck, like a grilling station and a sink. 
2 - Outdoor kitchens offer limited weather protection
Outdoor kitchens are open to the elements, limiting how often you use them and making them susceptible to weather damage.
You can mitigate this by building your outdoor kitchen on a covered deck or under an awning. This offers some degree of weather protection, as the deck roof or awning shades from the sun and shelters from the rain.
However, even with a roof or awning, an outdoor kitchen is still open to the elements at the sides.
During some seasons, you won't use your outdoor kitchen much. After all, no one wants to cook outdoors during the frigid winter, although you can invest in outdoor heaters to make your outdoor kitchen usable all year long. And while outdoor kitchens are perfect for summer weather, sometimes it's simply too hot to cook outdoors.
You also have to consider how the weather affects your appliances. Certain materials rust if left outdoors. If you add an outdoor kitchen to your beach house, the salt air speeds up the rusting process.
If you want to build an outdoor kitchen, make sure you work with a trusted contractor to build a sturdy outdoor kitchen setup that lasts through any harsh weather you deal with in your climate.
3 - Security concerns
While it would be difficult for someone to run off with your grill, especially if you get one built-in, your backyard is not as secure as the inside of your home.
With outdoor kitchens, you always have to think about the potential of some of your equipment getting stolen. 
4 - Expense
Building an outdoor kitchen is an expense not everyone will be able to afford. We'd all love to have an outdoor kitchen, but not all of us can afford one.
Still, not all outdoor kitchens are created equal. Some are luxurious, while others are simple—just a grilling station and some counter space. There's an outdoor kitchen option for a variety of budgets.
But even if you do have the finances to build an outdoor kitchen, you'll still need to ask yourself, is an outdoor kitchen a good investment?
Stay tuned; we'll get into that next!
Is An Outdoor Kitchen A Good Investment?
When deciding if you should get an outdoor kitchen, you should figure out if it's a good investment. 
To help you do that, let's examine the cost of an outdoor kitchen, the return on investment, and the other non-monetary considerations that help determine whether an outdoor kitchen is worth it.
How much does an outdoor kitchen cost?
Although outdoor kitchens typically cost somewhere in the $5,000-$25,000 range, you can add a few outdoor kitchen features for as low as $1000 or add luxury features and create a state-of-art outdoor kitchen that costs as much as $100,000.
There's a considerable degree of variety!
The centerpiece of an outdoor kitchen is the cooking station, which runs from $800 to $10,000 depending on how large and fancy of a cooking station you choose. 
You'll also need a patio or deck to put the grill on. If you don't already have one, that's an added expense. However, patios and decks usually have a great return on investment. 
Beyond that, it's all about the add-ons. You can add some counter space or even a sink reasonably cheaply if you use cheaper materials. High-quality appliances like a refrigerator and extended cooking spaces, eating spaces, and cabinetry add expense.
If you want to see a more detailed breakdown, HomeAdvisor offers a handy tool for calculating how much an outdoor kitchen costs. 
How much return on investment can I expect?
Although the return on investment (ROI) for outdoor kitchens varies somewhat depending on what type of outdoor kitchen you get and what homeowners are looking for when you decide to sell, you can generally expect about a 50% ROI. 
So, while you can expect to get some of your investment back, an outdoor kitchen is certainly not the home improvement project that nets you the highest ROI. 
However, trends may change, and you may get a higher ROI than expected. For example, for homebuyers in the Pacific and South Central areas of the United States in 2021, outdoor kitchens were the most desired outdoor home feature. 
Still, when considering the cost of an outdoor kitchen, the ROI alone is probably not enough to make it worth it.
Instead, you'll also want to consider how much your outdoor kitchen will positively impact your life. 
Will my outdoor kitchen positively impact my life?
If you're considering building an outdoor kitchen, money is undoubtedly on your mind, but it's not the only thing to think about. You're not building it as a money-making venture; you're building it because of the enjoyment and health benefits you think it may offer. 
So when trying to decide if an outdoor kitchen is worth the investment, you need to ask yourself some questions:
How much will you use an outdoor kitchen?
Do you currently own any outdoor cooking equipment, such as a grill? Do you tend to enjoy the experience of grilling? What do you do with the outdoor space you currently have? Do you utilize it for eating outdoors and hosting parties?
If you make the best use of what you already have but are limited by a lack of outdoor equipment and weather protection, you are a good candidate for an outdoor kitchen. 
On the other hand, if you hate to cook and avoid the outdoors, building an outdoor kitchen will not magically make you the type of person who will use it. 
What benefits can you expect from your outdoor kitchen?
If you are the type of person who would make good use of an outdoor kitchen, you'll find there are numerous benefits, such as:
While it's important to think of the monetary benefits of adding an outdoor kitchen to your home, it's also essential to consider the non-monetary value.
The more you'll use your outdoor kitchen, the more priceless benefits you'll reap in the form of health and strengthened relationships.
Designing Your Outdoor Kitchen
If you've decided on an outdoor kitchen, it's time to think about the process of actually designing and building the outdoor kitchen of your dreams. 
Step 1: Consider what features you're interested in
There are numerous features to consider when thinking about what you want your outdoor kitchen to look like, including:
The grilling station
Your outdoor grilling station will be the centerpiece of your kitchen setup.
A kitchen counter
To elevate your cooking area from a simple grill to something resembling a kitchen, you need to add a kitchen counter. Depending on your budget, your counter may be small or vast. 
An outdoor sink
Adding an outdoor sink allows you to prepare food outdoors without running back and forth to the indoor kitchen. 
Refrigeration
By adding a refrigerator to your outdoor kitchen, you can store food outdoors. It's also handy to quickly grab a cold drink on a hot day.
A pizza oven
Like grills, wood-fired pizza ovens are popular in outdoor kitchens because they allow you to experiment with new types of cooking, but their open-flame nature makes them too dangerous for indoor use. 
Other appliances
What kitchen appliance do you feel like you can't live without? A dishwasher? A coffee maker? A stovetop? Pretty much any indoor kitchen appliance has a sturdy, weather-resistant version designed for outdoor use. 
Storage and cabinets
You can store dishes, knives, grilling equipment, and anything else you'll need in your outdoor kitchen by adding storage and cabinets. 
Outdoor seating
Finally, think about where people will sit to consume the food you make in your outdoor kitchen. One popular feature is to extend the kitchen counter into a bar. 
Step 2: Figure out your budget
As we discussed earlier, outdoor kitchens can be designed to fit nearly every budget.
After you get an idea of what features you'd like to add to your outdoor kitchen, you should figure out your budget, basing it on two factors:
How much will you use your outdoor kitchen?
If you'll only use your outdoor kitchen a couple of times a year, you might not want to splurge on something fancy, even if you can afford it. But if you'll basically live outdoors all summer once you have the chance, it's worth it to pay for high-quality materials that fit your needs and lifestyle. It's also always worth it to talk to people who have already built outdoor kitchens and other outdoor living spaces and ask about their experiences. 
Step 3: Figure out what type of layout you want
Once you know your budget, start thinking about what layout you want.
Start by thinking about the infrastructure that's already in place. Does your home already contain a deck or patio? If so, that is probably the simplest, most cost-effective place to put your outdoor kitchen. 
If you don't have enough space on your existing deck or patio, you could consider extending it. 
Next, think about proximity to the house and your indoor kitchen. You'll likely have to run inside for supplies at times, and it's nice to have everything you need close by. 
You also want to think about proximity to your entertaining space. If you host parties in your backyard, you may not want to build your outdoor kitchen off the side of the house.
After all, you want to be able to cook and socialize simultaneously.
Finally, you should think about how you want your appliances laid out. If you do a lot of cooking, this should be easy for you! 
What frustrates you about the setup you have inside? Is the sink too far from the stove? Is there an appalling lack of counter space?
Because of the nature of outdoor kitchens, you'll likely have a lot more space to work with than you do inside, giving you a chance to create your dream kitchen layout. 
Step 4: Finding the right contractor
Once you have an idea of your budget and the basic features and layout you're looking for, it's time to start looking for a good contractor.
Does this sound intimidating?
Don't worry, it's doable if you follow a few key steps!
Although you may change your mind after discussing logistics with your contractor, it's best to have an idea of what you want before you start looking for a contractor.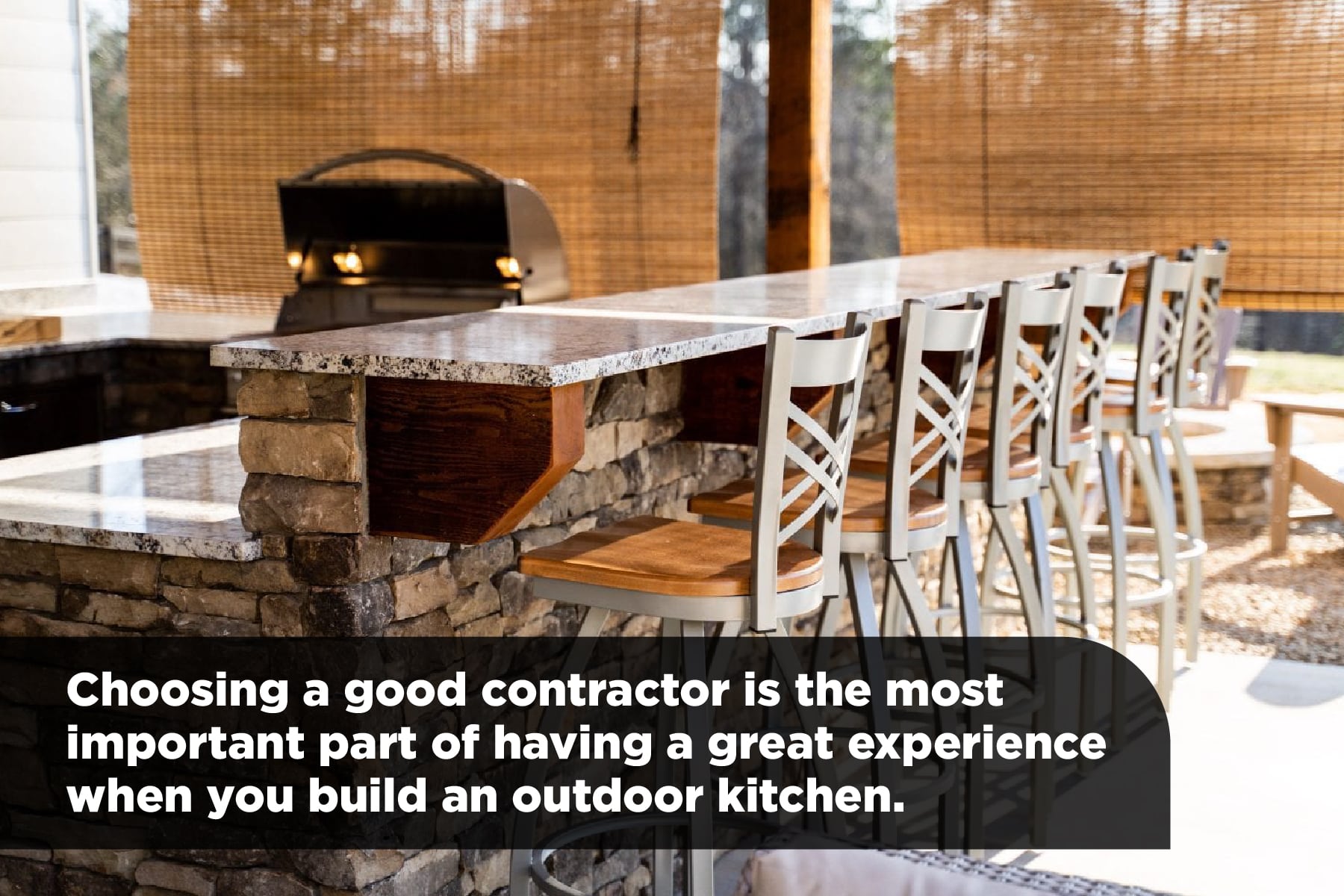 Next, start looking at your contractor options. Ask your friends and acquaintances about contractors they've hired for similar projects. What was their experience like? Would they recommend their contractor?
Another idea is to look online for contractors in your area. But whether the contractor comes from a friend's referral or the Internet, it's always best to call them up and ask them key questions, including:
Do they do the sort of work you're looking for?

How long have they been in business?

How much do they estimate the project costing?

Can they give you a list of references?

How soon will they be able to do your project?

How long do they estimate the project taking?
For more tips about hiring a contractor, read our related blog post about covered porches, which includes an in-depth look at the process of hiring a contractor.
An evening breeze brushes against your skin as you stand barefoot on the patio, chopping vegetables while your oldest son takes over the grill. 
Your daughter runs through the grass, catching lightning bugs in a jar.
Laughter. Togetherness. Good food.
Could anything be better?
If you're ready to get started on an outdoor kitchen, we would love to help you out. 
Here at DG Builders, we are experts at building outdoor kitchens, and we can also help you with your deck and patio needs.
We also offer other home services like:
Give us a call today at 864-230-2613 to schedule a consultation. Or, if you prefer, head to our website and get an estimate!
We can't wait to hear from you.