Tips for Planning and Building a Home Addition
There are many reasons you may want to add a home addition. 
You started working from home and need a new office. Maybe your family is outgrowing your home, or you want to care for your aging parents. Perhaps it's time to add luxury or convenience to your home. 
Whatever the reason, a home addition can add a lot of value to your home and lifestyle. 
But home additions can be big, stressful projects. There are many hurdles to overcome before the project can get started and ways for it to go off the rails into ever-mounting expenses and stress.
How can you make sure you are sleeping well at night during a home addition project (rather than pulling your hair out in frustration)? In this blog, we'll answer this question and offer tips and tricks to make adding to your home a smoother process. 
Let's begin!
Is a Home Addition a Good Idea?
If you find yourself in a situation where you're considering a home addition, you'll inevitably need to ask if it's a worthwhile investment
In general, the answer is yes. As the introduction states, a home addition usually adds value to your home through additional space and/or luxury. And it's almost always cheaper than purchasing and moving to a new location. However, there are cases where the benefits don't outweigh the investment of time and finances required. 
Here are a few questions to ask yourself to help you determine if an addition is a good idea for your situation. 
What problem am I trying to solve? What goal am I trying to accomplish? Is there a different way to solve the problem or reach this goal? 

What is my budget? Will I need financing? 

What permits are required?

Are there zoning restrictions on your property? 

Will the addition increase my property taxes?

What kind of outdoor space do you have? Will an addition make it feel crowded? 

Will I stay in my home or need to relocate during the renovation? 

What design considerations are necessary (e.g., in the case of a historic home)?
Certain additions offer more return on investment (ROI) than others. Generally, bedrooms, extended kitchens, garages, and bathrooms and among the best home additions when it comes to ROI
Hurdles You May Encounter
Identifying potential difficulties before starting a project like a home addition is essential. Here are a few to remember as you decide if a home addition is right for you. 
Unforeseen expenses

: These are very common due to fluctuating supply prices and unanticipated issues (especially when you're adding to an older home). Be very realistic about your budget and include a cushion for these expenses. 

Permit/Zoning restrictions or delays

: Some areas have restrictions on how close you can build to a property line or how many buildings can be on a property (in the case of an unattached addition). Sometimes it can take some time to attain the necessary permits for your project. Ensure you know your local laws before starting your project, and be prepared for delays. 

Increased property taxes

: An addition may cause an increase in your property tax that is disproportionate to the benefits you'll gain in the expansion. (However, the tax increase for a home addition is far less when compared to demolishing a home and building brand new.)
Considering these cautions, a home addition is usually a good idea and worth the investment!
The financial part of a home addition project can be overwhelming. Let's start with a few helpful terms to know when making financing decisions. 
Helpful Terms
Here are a few helpful terms if you're considering a loan to fund your home addition. 
ARM: Adjustable-rate mortgage
Discount points: An amount of the interest costs paid upfront
Equity: Interest determined by subtracting the loan balance from the appraised value
Closing costs: Fees paid with the down payment 
Line of credit: Instead of a fixed amount, a line of credit allows a person to borrow any amount up to a limit.
Loan-to-value ratio: A measure that compares the mortgage amount with the property's value. Anything

under 80%

is considered good. 

PITI: The monthly costs of a mortgage – principal, interest, taxes, and insurance.
PMI: Private mortgage insurance 
The financial investment required for a home addition can be a significant hurdle to overcome. Thankfully, there are a few options for financing your home addition.
Financing Options 
While this means you'll probably need to wait longer to begin your project, saving up to pay for a home addition in cash has numerous benefits. The most obvious is that you won't have debt and interest to worry about. Another advantage is that your credit score won't stand in the way of your project. 
The most common way to finance a project of this scale is by getting a loan. Several types of loans are available, but the most commonly used for home additions are personal and home equity loans. It's important to consider interest rates when deciding how much to borrow. 
A line of credit allows you to borrow as much as you need up to a limit. There are often variable interest rates available. You can take out a personal line of credit or, if you've lived in your home for some time, a home equity line of credit. 
Pro tip: Use a combination of cash and another financing method (e.g., a loan) to fund your addition. This means you won't have to wait as long to start your project and won't have as much debt. It's the best of both worlds!
Add a 10% cushion to your budget
As we mentioned earlier, unforeseen expenses in home addition projects are a given. Its recommended that you prepare for these by adding a minimum of 10% additional funds to cover these costs. If you plan to do the work yourself, add a 20-30 percent cushion.
Once you've nailed down your budget and secured financing for your home addition, it's time to start planning. Here are a few things you'll want to consider. 
Consider HVAC system choices 
There are several options for heating and cooling your addition. You can tie it into your current system or add a separate system. These are decisions you'll need to consider and make in the design stages of your project. 
Consider your current roofline.
Often additions look like an addition – like a building stuck onto another, and you want to avoid that. One way to do this is by designing the roofline of your addition to complement or match the current roofline. 
Think about how to blend the addition into the existing structure. 
Matching other pieces of your home can be difficult. For example, siding, shingles, etc., can fade over time. To have them fit well with the addition, you may need to replace more than you thought or devise creative ways to separate the old from the new.
Consider water flow. 
Make sure the ground is graded away from the addition so you don't end up with water pooling in the foundation.
Locate the sewer and utility lines on your property.
This is important for two reasons. The first is safety. Hitting a buried electric line can cause serious injury and even death. The second reason is a little more positive. Depending on your situation, you may want to tap into some of those lines to supply utilities to your addition. Talk to your contractor if this is a good idea for your project.
Once you've decided to move ahead with your home addition, what are the first steps to get the project rolling? 
Explore designs and decide on your budget. Discuss what you want and need in your addition and create a realistic budget.
Find a reputable contractor. Read reviews, ask friends for recommendations, and get several estimates. If possible, find

a contractor that does turnkey projects and has in-house designers.

This means they will be equipped to help you design a lovely, workable space and take care of everything from permitting to finish work. This makes the process a lot less stressful for you as the homeowner!

Finalize designs. Work with the contractor or architect to finalize your designs.
Begin construction! After you've finalized the designs, the construction can begin, and you'll be on your way to beautiful, additional space for your home!
Pro tip: Talk to others who've done an addition and ask what they would do differently. Often people with experience are the best resources out there!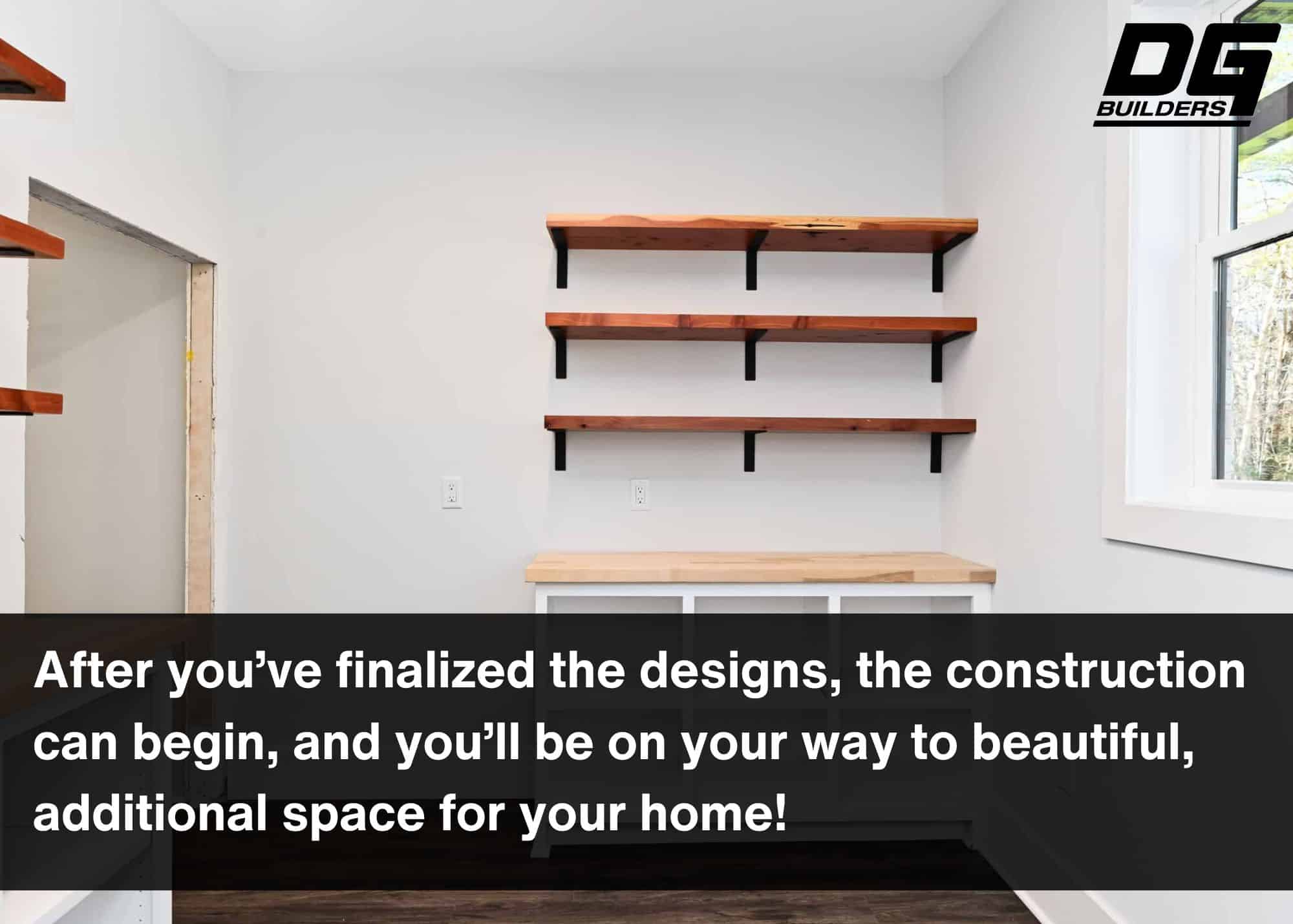 Adding to your home is a great way to create additional living space, comfort, and luxury. While there are hurdles to overcome, an addition adds much to a home, making it worth the effort!
At DG Builders, we offer home additions in South Carolina, including living & family rooms, bedrooms, bathrooms, master suites, and attached garages.
We prioritize good communication and have in-house design professionals and financing options available. Begin your own turn-key home addition by following these three steps:
We'll come out and give an onsite design consultation. 

After you sign the proposal, we'll start the installation. 

Enjoy your beautiful additional space!

Beyond home additions, we offer

new construction

,

renovations

, and outdoor living projects such as

porches

,

outdoor kitchens

, and more. 
If you have more questions or are ready to get an estimate for your project, reach out today. We'd love to work with you!